Service World Expo 2023 Schedule
Schedule is subject to change.
New this year, Service World Expo has developed training sessions based on company revenue streams. Four different tracks are available. No matter where you are on your journey we can help you with the next steps!
These are just recommendations, and everyone is welcome to participate in any session available. The company revenue streams will also translate to ribbons based on the color chart. This will help you find companies of your size to relate to and companies with higher revenues for you to aspire to.
Make sure you take advantage of the specific trainings and targeted networking!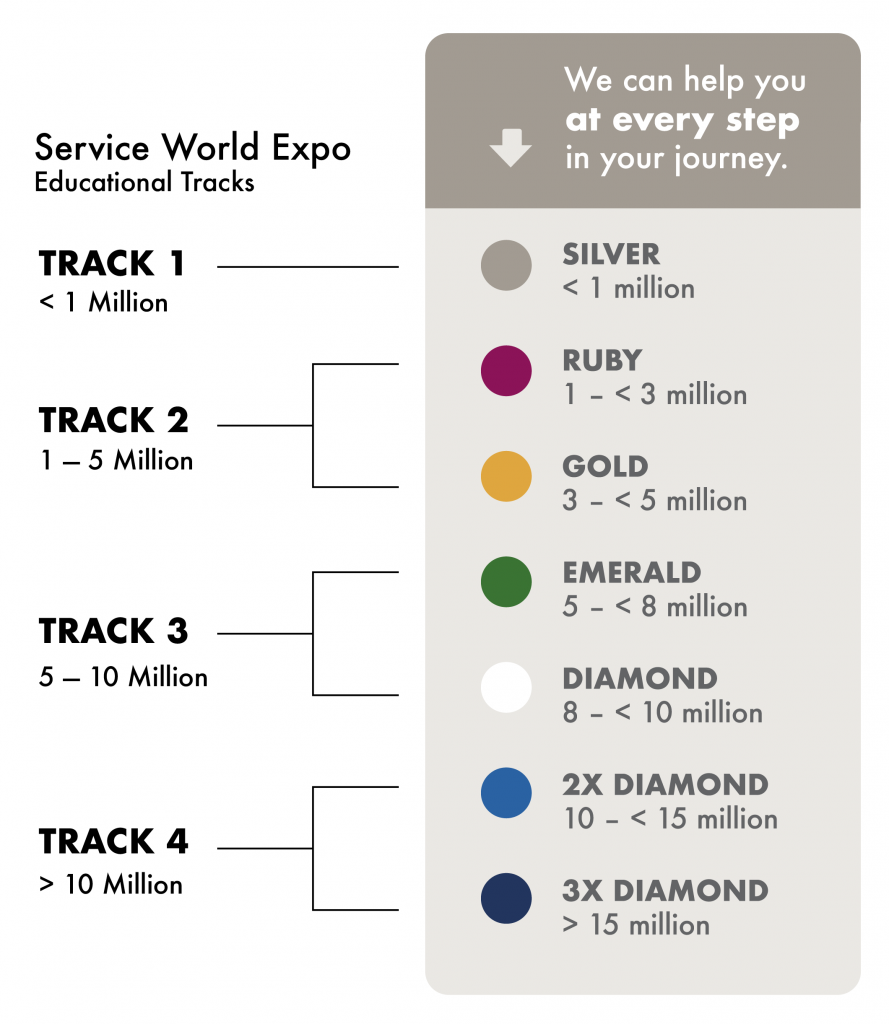 2023 Service Nation Golf Tournament Benefiting the Joseph S. Groh Foundation
Exhibitor Load-In: Tuesday 8 am – 5 pm
Service Nation Alliance Meeting – Exclusive
Service World Expo Opening Party at Canyon on Third Street
Service World Expo Breakfast
Exhibit Hall Hours 11:00am – 3:00pm Includes Lunch
Service World Expo Wednesday Night Event
Business Uncensored - Wednesday, October 4th
Exhibitor Breakdown: Thursday 3:30 pm – 5 pm
Service World Expo Breakfast
Women of Service World Breakfast and Panel Discussion
EXHIBITOR SPOTLIGHT – Maximize Your Performance with Rheem and Ruud's Pro Partner Program
Exhibit Hall Hours 11:00am – 3:00pm Includes Lunch
Why You Need a Cheerleader
Marketing & Branding Jenga- Developing a Brand So Your Marketing Doesn't Topple Over Lemon Seed Marketing
Service World Expo Thursday Night Event – Party at The Duce
Business Uncensored - Thursday, October 5th
Business Uncensored – The Growth Mindset
Service World Expo Breakfast
Everything I Know About Running an HVAC Business I Learned in Kindergarten
25 Years in Home Improvement: Looking Back While Stepping Forward with Panel Discussion
Service Management Myths: Leadership and Management Skills for Mid-Sized Businesses with Panel Discussion
Call by Call Management, Improve Your Bottom Line Profitability Today with Panel Discussion
Business Uncensored - Friday, October 6th
Business Uncensored – The Disruption of AI in the Trades: The Good, The Bad and The Ugly